I had the idea of making a 3-state CA which behaved like this:
- In any 3x3 block containing only cells of states 0 and one other state
a
, the centre cell behaves as it would in normal Life,
a
being "alive".
- In other situations, the rules are yet to be defined.
Now, I've been engineering the yet-to-be-defined rules, with the intention of making a form of lightspeed wire that's about as easy to manipulate as WireWorld. In essence, state 2 is WW's conductor state, state 1 is its electron tail state, and state 0 (blank) doubles up both as the empty space and the electron head state. I've got turning corners working fine now, haven't started working on logic gates or splitters or anything like that yet, but what I have been doing is attempting to make a "electron to glider" converter. After some trial and error, I've got a useful-seeming result in which an electron arriving at the end of a wire takes 15 generations to push a waiting state 1 beehive one cell to the right. If a second electron arrives, the beehive is pushed a further cell to the right, but the mechanism then breaks down and a third electron causes the entire setup to disintegrate. So, I'm looking for a way to detect that the beehive has moved, and then move it back and emit a glider.
I won't post the rules I've made so far since I might change them later, but here's a picture of the above effects so you know what I'm talking about (red = state 1, yellow = state 2):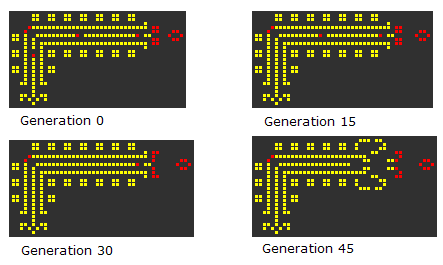 Thanks in advance for any suggestions.